Jacques and Maryann L'Heureux
406 Doral Dr
Warson Woods, Missouri 63122
---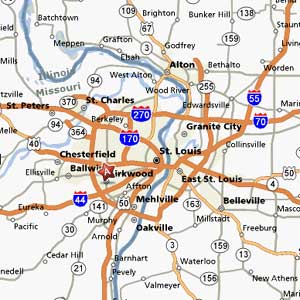 We moved from Columbia, Maryland to Warson Woods, Missouri in March of 2008. We are both retired and wanted to be closer to our children. We had been in Maryland for nine years.
One daughter (Elizabeth) lives nearby in Glendale, MO and three of the other four children live in Chicago, six hours of driving away. On the map at right, the red starred A is Warson Woods. Click on the map for more details and directions.
Jacques left the University of Delaware in 1999 after 10 years of research there to take a new position as Director of University Relations for Space Sciences with the Universities Space Research Association (USRA), a non-profit association of universities who are involved in space research and aerospace.
He retired from USRA in 2004 and we continued to live in Columbia until 2008. Information on his career can be viewed at his Scientific Web Page.
Maryann also retired from her Native American Art Appraisal business in 2004.
Our home is at 406 Doral Drive in Warson Woods, Missouri 63122. For directions to our house, click on the map above. You can also call us at 314-965-2475. If you get no answer at home and your call is very important, try Jacques'cell phone at 314-578-6249.
Warson Woods is a small community on the West side of Saint Louis near the better know and larger community of Kirkwood. Visit out town website.
Back to Top
---
Page created by Jacques L'Heureux
Last modified: March 12, 2009