Goldie
In October of 2008, we acquired a two year old Maine Coon cat from a shelter in Saint Louis and we named her Goldie.
She is very sweet and follows us around the house.
PC-Virus (1993-2006)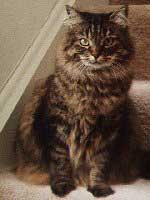 Our Maine Coon cat was named PC (short for PC-Virus). PC got her name from when she was just a few months old - she would jump on Jacques' desk and on the computer keyboard trying to get at the moving screen saver on the monitor. A keyboard password had to be set up to prevent her from doing serious damage. She passed away in 2006.
We have more pictures of her here.